In an increasingly connected world, the need
In our technologically advanced world, privacy and
check out our top sellers!
Introducing Custodi's Best-Selling Faraday Bags – the ultimate answer to your digital security needs! These Faraday Bags are Military-Grade, built with advanced construction materials to ensure your devices remain completely protected from unwanted electromagnetic interference (EMI), as well as providing data privacy from hacking attempts.
OffGrid Faraday Phone Bag
Protect your phone against possible security breaches with an OffGrid bag. The OffGrid line includes sleek designs with stitch-less, thermo-welded seams and, a single-fold Velcro closure mechanism with a new magnetic closure that creates a continuous closed loop to eliminate any gaps that can be infiltrated by signals. Each bag is lined with multiple layers of Faraday material to shield devices. The innermost layer is constructed of a diamond ripstop Faraday fabric to prevent abrasion from devices.
The minimalist form of the bag makes this discreet accessory easily transportable for day-to-day use.
Advanced Composite Fabrication with Unmatched RF Shielding (100 dB+)

Blocks WiFi, Bluetooth, Cell Signals (incl. 5G), GPS, RFID, and NFC

Unique Dual Closure System – Ensures a firm signal seal

Internal Usage Dimensions (must fit within) 20.4cm x 13.9cm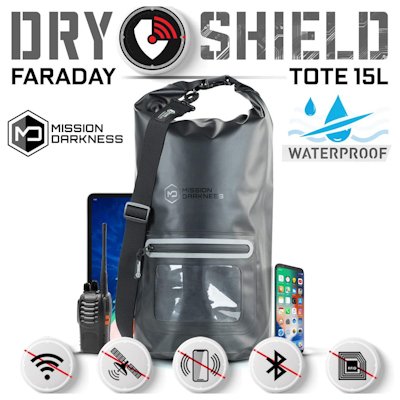 Mission Darkness™ Dry Shield TOTE 15L
The Mission Darkness™ Dry Shield Tote 15L completely blocks all wireless signals and keeps large electronic devices shielded to prevent hacking, tracking, spying, and chain of custody corruption. The 15-liter capacity can accommodate numerous devices, such as laptops, batteries, tablets, cell phones, radios, GPS units, and additional accessories and gear. Electronics enclosed inside are guaranteed to remain dry and offline in any water-surrounded location.
Advanced Military-Grade Construction with Unmatched RF Shielding

ULTRA Durable Water-proof PVC with welded seams

Roll & clip Closure – instantly blocks all RF signals

Internal usable dimensions when closed: 43.2cm H x 22.9cm W